Santa Barbara Massage Therapists, Therapeutic Healing Bodywork by NiCoLa!
Massage causes physiological changes in your body through:
The relaxation response, which is involuntary, yet the predictable response of the nervous system to massage techniques and touch
Mechanical responses, which are physical effects that occur in the body when pressure is applied to the soft tissues
Together, these responses can produce physical and emotional benefits.
What is the relaxation response?
In a massage, caring, safe touch is an invitation to relax. This, together with pain relief, generally produces a "relaxation response."
The relaxation response is a state in which your heart and breathing rate slow, your blood pressure goes down, your production of stress hormones decreases, and your muscles relax. The relaxation response also seems to increase the available level of serotonin, which is a chemical in the body that positively affects emotions and thoughts. While this information is promising, more studies are needed to directly confirm the relationship between massage and levels of serotonin in the brain.
The relaxation response may decrease the physical effects of stress and reduce the risks associated with stress, such as hypertension, cardiac arrhythmias, anxiety, insomnia, persistent fatigue, sexual dysfunction, digestive disorders, and psychological issues–to name a few.
What are the mechanical responses?
The physical manipulation in massage has two major physical effects:
Increase in blood and lymph circulation
Relaxation and normalization of the soft tissue (muscle, connective tissue, tendons, ligaments), which releases nerves and deeper connective tissues
Improving Circulation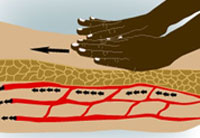 Massage is believed to improve blood and lymph circulation. This is probably due partly to the physical manipulation of soft tissue and partly to the chemicals released as part of the relaxation response.
Improved circulation can enhance the delivery of oxygen and nutrients to muscle cells. As cellular health improves, tissues function more efficiently. More efficient functioning leads to the removal of waste products and may increase the absorption of excess fluids and reduce swelling in soft tissues.
Relaxing Tissue
Massage therapy relaxes muscle tissue, which reduces painful contractions and spasms. Massage can also reduce nerve compression. To understand this, consider that when muscles are contracted, they sometimes compress the nerves around them. When these muscles are relaxed, the nerves are no longer compressed, and, in theory, can get proper nutrients and operate more efficiently. The nerves can assume their normal work of transmitting messages to and from the brain, which improves functioning of the muscles and organs.
Touching the skin or applying pressure relaxes muscles, tendons, and ligaments. In addition, while some of the deeper tissues of the body, such as deep spinal musculature, cannot be easily accessed by a massage therapist, the release of more superficial layers of muscles may also affect these deeper layers. This can lead to both superficial and deep tissues finding a better alignment and balance.
Organs can also benefit from massage, as they share neurological pain pathways with muscles, bones, and nerves. When muscles, bones, or nerves are distressed, organs can sometimes reflect distress and dysfunction. For example, low back pain can intensify menstrual cramps and menstrual cramps can cause low back muscles to tense. Massage can therefore improve symptoms associated with the functioning of both the organ and the muscles.
*Disclaimer: This information is not intended to be a substitute for professional medical advice. You should not use this information to diagnose or treat a health problem or disease without consulting with a qualified healthcare provider.
Please consult your healthcare provider with any questions or concerns you may have regarding your condition.
The information provided is for educational purposes only and is not intended as diagnosis, treatment, or prescription of any kind. The decision to use, or not to use, any information is the sole responsibility of the reader. These statements are not expressions of legal opinion relative to the scope of practice, medical diagnosis, or medical advice, nor do they represent an endorsement of any product, company, or specific massage therapy technique, modality, or approach. All trademarks, registered trademarks, brand names, registered brand names, logos, and company logos referenced in this post are the property of their owners.